Get To Know Our Team!
We are solely dedicated to your pet's care! We look forward to getting to know you, and we hope you'll take the time to scroll down and get to know us.
Norman Manning, DVM
Founder & Medical Director
Dr. Norman Manning found his calling in life when he, at the age of 14, began working at a veterinary hospital in his small Missouri hometown.
He graduated from the College of Veterinary Medicine at the University of Missouri in 1986 with numerous awards and honors and has practiced small animal medicine and surgery in North Carolina ever since.
He started Wake Forest Animal Hospital in 1991 with one full-time employee in a 1000-square-foot modular building. There are now four full-time veterinarians and over a dozen staff members in the current facility, which was built in 1999 and expanded in 2005.
Dr. Norman Manning is married, has two grown boys and various pets, and enjoys spending his free time on the farm with family and friends.
Craig Manning, DVM
Veterinarian
Dr. Craig Manning was born and raised in Wake Forest and has been a part of Wake Forest Animal Hospital since he was a young teen working as a vet assistant for his father, Dr. Norman Manning.
He graduated from UNC-Wilmington in 2013 and graduated from NC State University College of Veterinary Medicine in 2018.
He is a big supporter of Wolfpack athletics and loves to spend his free time on the golf course.
He currently lives in Wake Forest with his wife, Molly, and their two dogs named Nan and Winnie.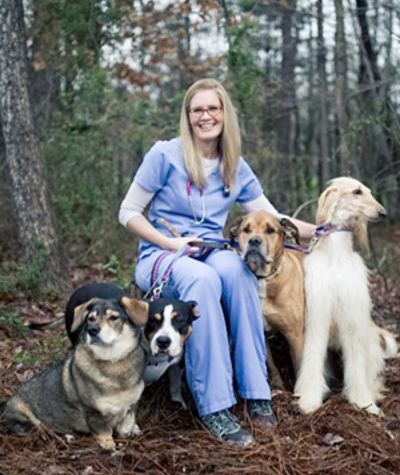 Mellisa Mullin, DVM
Veterinarian
Dr. Mellissa Mullin has been with Wake Forest Animal Hospital since June of 2005, having graduated from Auburn University College of Veterinary Medicine in May 2005.
She is originally from the north suburbs of Chicago, where she completed her undergraduate degrees in biology and art history.
She also lived and worked in Louisville, Kentucky, prior to applying to vet school.
Dr. Mullin currently resides in Wake Forest with her husband, 3 daughters, 3 cats, 3 dogs, and a rat.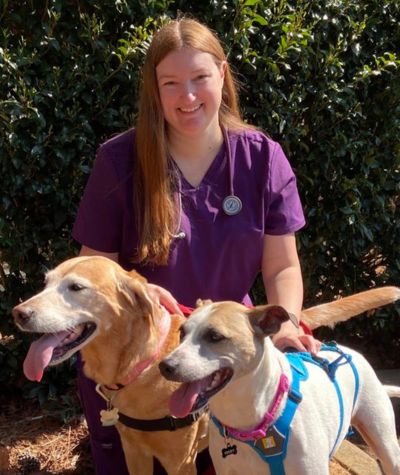 Megan Alreja, DVM
Veterinarian
Dr. Megan Alreja grew up in Reading, Pennsylvania, about an hour from Philadelphia. From childhood, she knew she wanted to be a veterinarian and spent most of her free time volunteering with dogs and horses. She received her undergraduate degree in Animal Sciences at Penn State University. She went on to obtain her DVM degree from Ross University in St. Kitts and finished her clinical rotations at Louisiana State University. After graduating, she practiced small animal medicine near Chicago, Illinois, before moving to North Carolina to be closer to family.
Dr. Megan Alreja has a special interest in acupuncture and offers sessions for both cats and dogs. She completed her acupuncture training at the Chi Institute in Reddick, FL.
In her free time, Dr. Megan Alreja enjoys spending time with her husband, family, and dogs. Dr. Megan has two dogs, Trudy (Island mix) and Abby (Golden lab retriever mix). Dr. Megan also enjoys hiking and horseback riding.
Ayla Khan, DVM
Veterinarian
Christine Bush, DVM
Veterinarian
Meet Our Hospital Manager
Meet Our Liaison & Billing
MEET OUR Technicians & Assistants